Data transfer incomplete.
This is a stub article. Make high quality edits to this page in order for it to be considered as a functioning article.
Saraline Timbers
is a main protagonist on
Welcome to the Wayne.
She has lived in
The Wayne
along with her older brother
Olly Timbers
and is a member of
Team Timbers
. She is the daughter of
Harvey Timbers
and
Olympia Timbers
.
Saraline is a brainy and mischievous young girl who is always equipped with all sorts of inventions and gadgets made by her parents, and—like her brother—makes it her main ambition to observe and explore the Wayne's supernatural qualities. She's deemed herself to be the leader of Team Timbers, as she is considered the most responsible and investigative of the trio. Despite her mature demeanor- her short stature, physical appearance, and childlike qualities make her the most disregarded of members—most evidently by Jonah Bishop. In reality, her necessity to Team Timbers is indisputable, as it would indeed be deficient of necessary brain and sensibility.
Appearance
Saraline is a young girl with a somewhat small stature. She has long orange hair pushed behind her head in a widespread coiffure, as well as a red and white cap with a round yellow logo. She typically wears a long olive green trench coat which drapes over the majority of her legs, along with a set of headphones around her neck (most likely Timbers Tech). She can be seen with the yellow hems of her trousers, but occasionally wears her pink and floral "big girl pants" as well.
Personality
TBA
Relationships
WIP
Harvey is generally playful with Saraline, as he usually calls her "Bug face" in a way playful way.
Trivia
Saraline has partially gray hair due to stress she carries, as seen in "Spacefish".
Gallery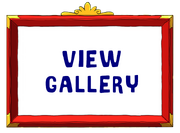 References
↑ Like a Happy, Happy Bird, halfway Saraline says "and mom wonders why I don't have any friends...I'm seven years old and I have to babysit everyone I meet."